In this post, you will find amazing farm quotes and sayings.
Short Farm Quotes and Sayings
"Money grows in row." —Unknown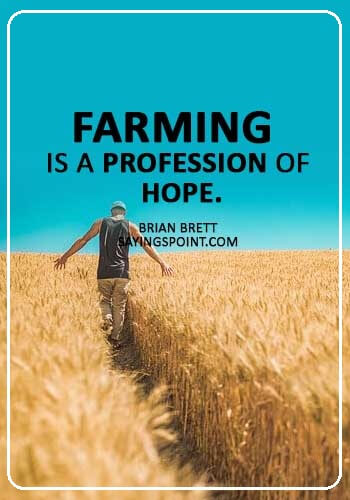 "Farming is a profession of hope." —Brian Brett
"The simple hearth of the small farm is the true center of our universe." —Masanobu Fukuoka
"As long as there's a few farmers out there, we'll keep fighting for them." —Willie Nelson
"It is thus with farming, if you do one thing late, you will be late in all your work." —Unknown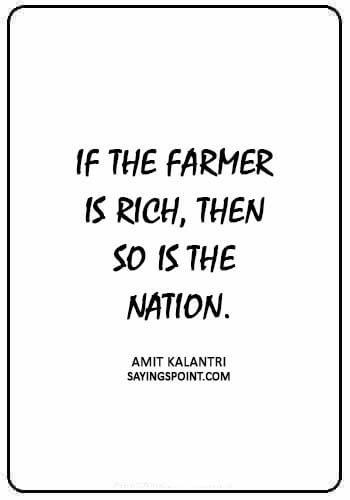 "If the farmer is rich, then so is the nation." —Amit Kalantri
"If you gonna work a farm you gotta learn to drive a truck." —Unknown
"I came from a dirt farm, now I'm filthy rich." —Larry Holmes
"I do not believe there was ever a life more attractive than life on a cattle farm." —Theodore Roosevelt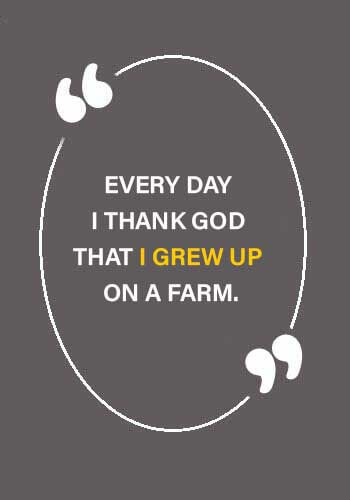 "Every day I thank God that I grew up on a farm." —Unknown
"Sowing is not as difficult as reaping." —Johann Wolfgang von Goethe
"The land too poor for any other crop, is best for raising men." —R. Pocock
"What is a farm but a mute gospel?" —Ralph Waldo Emerson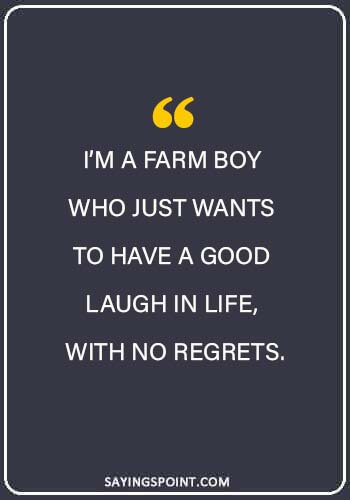 "I'm a farm boy who just wants to have a good laugh in life, with no regrets." —Unknown
"I had rather be on my farm than be emperor of the world." —George Washington
"There is no law for farm labor organizing, save the law of the jungle." —Cesar Chavez
"A farmer is a magician who produces money from the mud." —Amit Kalantri
"Farming with live animals is a 7 day a week, legal form of slavery." —George Segal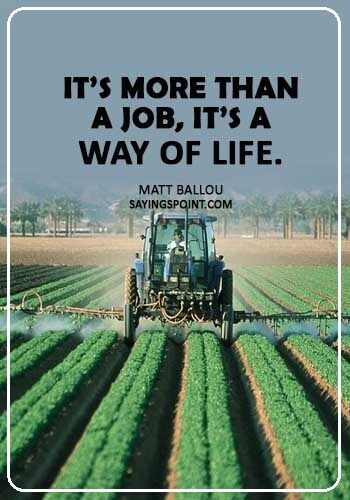 "It's more than a job, it's a way of life." —Matt Ballou
"Our great adventure ran out of petrol and stopped on this farm." —Steven Herrick
"You can make a small fortune in farming-provided you start with a large one." —Unknown
"Live as though you'll die tomorrow, but farm as though you'll live forever." —John Marsden
"The master's eye is the best fertilizer." —Pliny the Elder
Farm Quotes and Sayings
"Running a farm is about solving a problem, and that's always interesting to me. But it's a constant process." —Chris Blackwell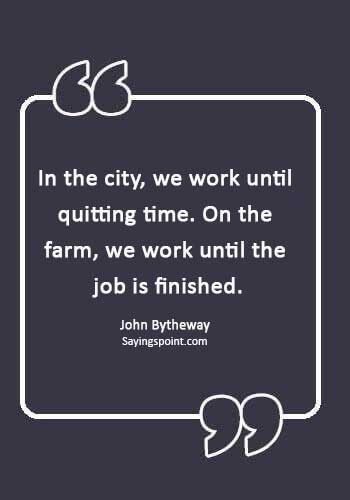 "In the city, we work until quitting time. On the farm, we work until the job is finished." —John Bytheway
"Farming looks mighty easy when your plow is a pencil and you're a thousand miles from the corn field." —Dwight D. Eisenhower
"Agriculture engenders good sense, and good sense of an excellent kind." —Joseph Joubert
"Do what you love to do, and be around things that make you smile. The cows make me smile every day." —David Jackson
"The farm women are extremely well organized and are bound to be heard from." —Edith Rogers
"When you grow up on a dairy farm, cows don't take a day off. So you work every day and my dad always said, 'No one can outwork you." —Pat Summitt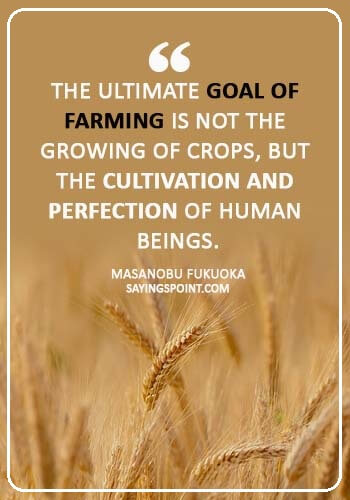 "The ultimate goal of farming is not the growing of crops, but the cultivation and perfection of human beings." —Masanobu Fukuoka
"A farm is a good thing, when it begins and ends with itself, and does not need a salary, or a shop, to eke it out." —Ralph Waldo Emerson
"Working with family makes what you do worthwhile, as you teach kids responsibility and the importance of life." —John Devos
"It is a rule of nature that taking a day off on the farm sets a person back at least a week." —Unknown
"There are only three things that can kill a farmer: lightning, rolling over in a tractor, and old age." —Bill Bryson
"Farming looks mighty easy when your plow is a pencil, and you're a thousand miles from the corn field." —Dwight D. Eisenhower
"A farm is an irregular patch of nettles bounded by short-term notes, containing a fool and his wife who didn't know enough to stay in the city." —S.J. Perelman
"Farming is a most senseless pursuit, a mere laboring in a circle. You sow that you may reap, and then you reap that you may sow. Nothing ever comes of it." —Joannes Stobaeus
"We are passionate about what we do. We love our cows and are happy to produce a healthy wholesome product like milk!" —Dale Jones
"Life on a farm is a school of patience; you can't hurry the crops or make an ox in two days." —Hnery Alain Liogier
"It is only the farmer who faithfully plants seeds in the Spring, who reaps a harvest in the Autumn." —B. C. Forbes
"I wouldn't bet the farm on it, but I'd bet the main house. I wouldn't even bet the outhouse on Mondale." —Richard Milhous Nixon
Top Ten Farm Quotes and Sayings
Here you will find top ten Farm Quotes and Sayings selected by our team.
"Farming is a profession of hope." —Brian Brett
"It's more than a job, it's a way of life." —Matt Ballou
"In the city, we work until quitting time. On the farm, we work until the job is finished." —John Bytheway
"If the farmer is rich, then so is the nation." —Amit Kalantri
"Running a farm is about solving a problem, and that's always interesting to me. But it's a constant process." —Chris Blackwell
"The ultimate goal of farming is not the growing of crops, but the cultivation and perfection of human beings." —Masanobu Fukuoka
"I'm a farm boy who just wants to have a good laugh in life, with no regrets." —Unknown
"Do what you love to do, and be around things that make you smile. The cows make me smile every day." —David Jackson
"Every day I thank God that I grew up on a farm." —Unknown
"There is no law for farm labor organizing, save the law of the jungle." —Cesar Chavez